History Of All YG Girl Groups


Many people who are new to K-pop or not very active listeners think that YG Entertainment's girl group history started with 2NE1. Well, is it really so? Let's check out YG's girl groups together!
Swi.T (2002-2004)


In spring of 2002, after four years of preparation, Swi.T debuted as the first girl group to release an album under YG Entertainment. They had previously made an appearance rapping on 1TYM's second album on the track "Ready or not Yo!" (Korean version) in 2000 and singing in the song "Don't Leave Me" on Perry's album in 2001.
On February 25, 2004, Yang Hyunsuk left a message on the YG website updating fans with the status of all the YG artists, including Swi.T. In this message, he informed fans of the cancellation of the group's second album and the disbandment of the group. The reasons given were that member Ahn Nai Young moved to America with her family and that Sung Mi Hyun was having family troubles. Only Lee Eunjoo would stay with YG, and at the time would undergo training in Japan in preparation for a solo album.
Do you want to know an interesting fact? One of the members Lee Eunjoo married to YG's CEO Yang Hyunsuk.
Big Mama (2003-but left YG in 2007)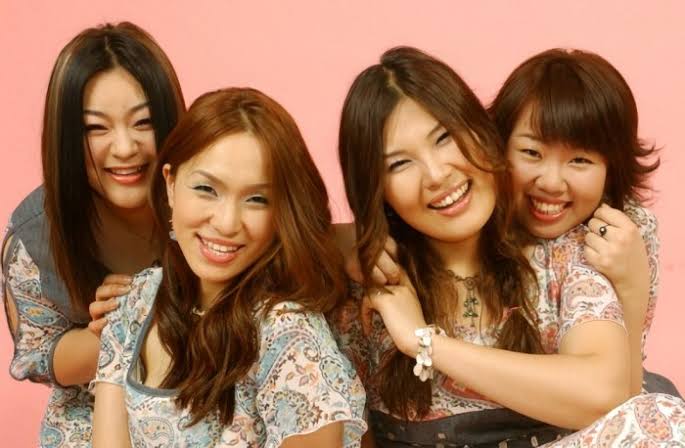 Big Mama was a 4-member Korean vocal group debuted in 2003 under M-Boat (a YG Entertainment sub-label), In March 2007, Big Mama left YG Entertainment to join Manwalldang Label.
Big Mama members were chosen through a nation-wide audition held by M-boat Entertainment Group and YG Entertainment that lasted for about 2 years. The head of both companies wanted to form a group that focused more on the music rather than the artists' looks. The result was Big Mama, a 4-piece group with "big women" (by Korean celebrity standards) with impressive vocal talents. The group's debut album was well received by music fans and topped music charts.
2NE1 (2009-2016)


YG Entertainment revealed a new female group, dubbed the "female BIGBANG" by netizens, that consisted of Park Bom, Lee Chaerin, Gong Minji, and Sandara Park on October 18, 2008. Yang Hyunsuk, the founder of YG stated: "The final decision is that they will debut next February after sorting out the various preparations for their debut. This new female group will consist of at least 4 members, if not 5, though we have not come to a final decision on that yet. But we are confident that they will be a strong group which will display a different type of charisma for fans." Their debut was announced to occur in April of 2009, yet was postponed to May 2009.
On April 29, 2009 Yang Hyunsuk announced on YG Entertainment's official website 2NE1's debut digital single was titled "Fire". A 20 second teaser of the song was released on April 30, 2009 as well as a set of promo photo's of Minzy. This release pattern continued with a 35 second teaser of the song released on May 1, 2009 with a set of promo photo's of Dara, a 50 second teaser with CL promo photo's on May 2nd, and a 60 second teaser with promo photo's of Bom on the 3rd. "Fire" was released on May 5, 2009 along with the music video which had two versions: the "Space" version and the "Street" version. Their debut performance of "Fire" was on May 17, 2009 at Inkigayo and they won their first "Mutizen" at Inkigayo on June 14, 2009. 2NE1 ended promotions for "Fire" on June 28, 2009 with their last performance held on Inkigayo.
On April 5, 2016, YG Entertainment confirmed that Minzy had left the group. 2NE1's contract expired on May 5th, and Minzy was the only member who did not re-sign. The remaining three were expected to make a comeback during summer, however, on November 25, 2016, YG Entertainment announced the disbandment of the group. Members CL & Sandara signed a solo contract with the agency.
On January 5, 2017, it was announced the group would release one final track, aptly titled "Goodbye", on January 21st to say a proper farewell to their fans.
Hi Suhyun (2014-2015)


HI SUHYUN is a Korean pop female duo created under YG Entertainment. The group consists of Akdong Musician member Lee Suhyun and solo singer Lee Hi. The duo was created as a YG Collaboration Project. They released the number one single, "I'm Different", in November 2014.
As of December 31, 2019, Lee Hi and YG's contract was terminated, and Akdong Musician renewed the contract with YG in January 2021, so the chances of seeing Hi Suhyun in the future are very low. It is safe to say that due to YG's unique skepticism about collaborations and features with outsiders, it is safe to say that Hi Suhyun's official activities are virtually impossible to see.
BLACKPINK (2016-present)


BLΛƆKPIИK is a Korean pop girl group created by YG Entertainment. They are the first girl group to debut under YG in seven years. The group debuted on August 8, 2016, with their single album "SQUARE ONE", with lead tracks "Whistle", their first number-one song in South Korea, as well as "BOOMBAYAH", their first number-one hit on the Billboard World Digital Songs chart.
After four years of teasers, videos, and various cameos, rumors began to stir in the beginning of May 2016 that YG Entertainment's new girl group was in the process of their debut. YG began revealing the final line-up every Wednesday over a period of four weeks, starting on June 1st with member Jennie and ending on June 22nd with member Rosé. On June 29th, the name of the group on was revealed to be "BLΛƆKPIИK".
The group is currently the only active girl group under YG Entertainment for 6 years.
BABYMONSTER

BABYMONSTER is an upcoming seven-member girl group under YG Entertainment. They are set to make their debut in 2023.
In February 2020, YG Entertainment's Chinese trainees Jane Wang and Vicky Wei, joined a Chinese survival show Idol Producer 3 and introduced themselves as "Baby Monster" Back then, on December 12, 2019, YG Entertainment officially trademarked the name BABYMONSTER. On February 18, 2020, the company also trademarked the name BAEMON. Previously, BLACKPINK's Jisoo mentioned in an interview that BABYMONSTERS was among BLACKPINK's potential names pre-debut & seen on their debut profile photos.
On December 30, 2022, YG Entertainment unveiled the poster titled "YG Next Movement" containing the shadow of 7 girls, the poster set midnight on January 1, 2023 as the reveal day for something related to the group. On January 1, 2023, YG Entertainment released a trailer for the group's debut through their YouTube channel, in which it was confirmed that the group would be called "BABYMONSTER".
made by irem
Note: Please don't copy-paste the content of this page to other sites/places on the web. Please do respect the time and effort the author put in compiling this profile. If you need/want to use info from our profile, please kindly put a link to this post. Thanks a lot! 🙂
Which is your favorite YG girl group?
Which is your favorite YG girl group? Feel free to comment below! 🙂