Dahyun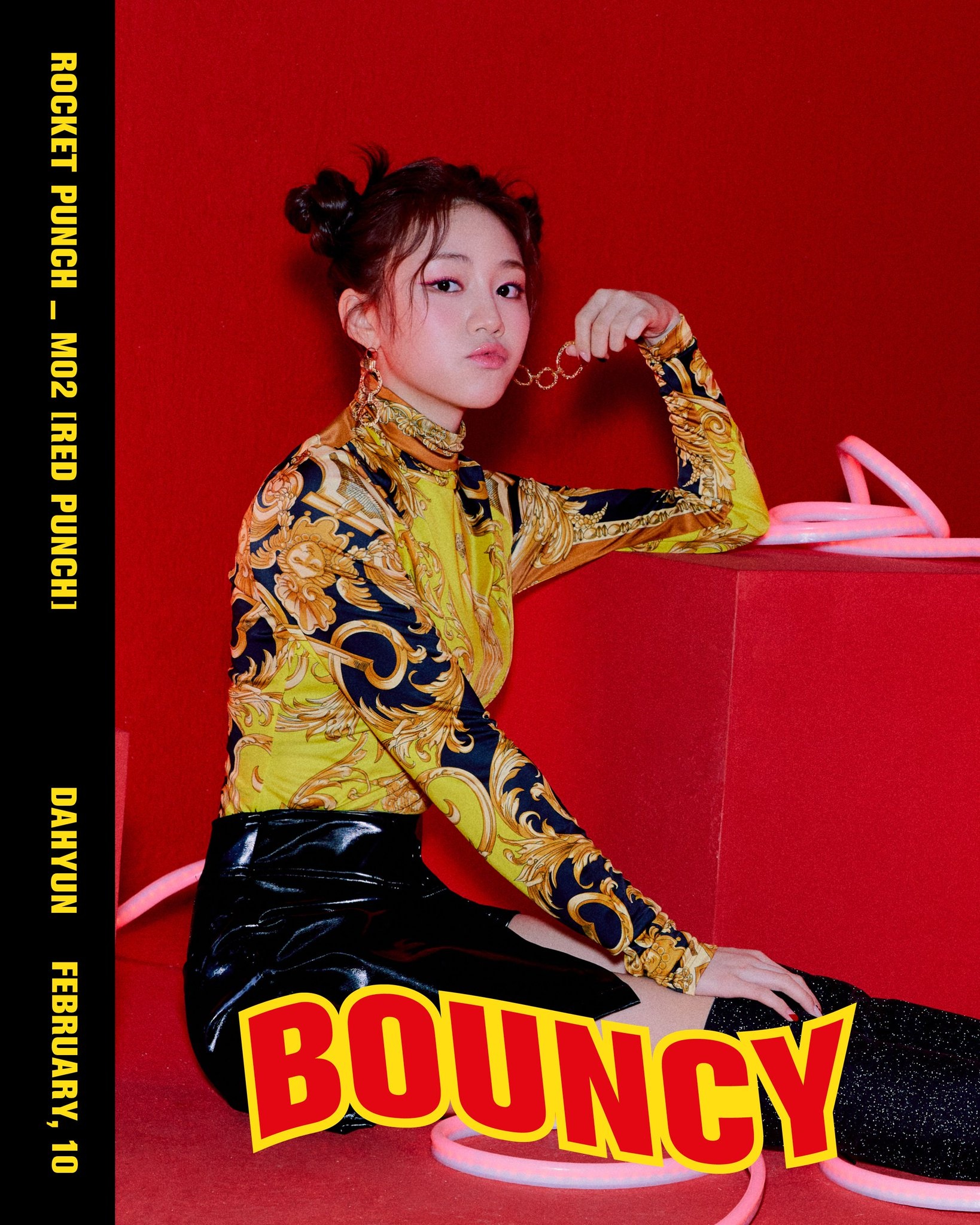 Stage Name: Dahyun (다현)
Birth Name: Jeong Da Hyun (정다현)
Birthday: April 29, 2005
Zodiac Sign: Taurus
Flower Language: Pink (Caring, well wishes)
Height: 160 cm (5'3″)
Weight: 44 Kg (97 lbs)
Blood Type: A
MBTI Type: ISFJ / ESFJ
Dahyun facts:
– She was born in Daejeon, but moved to Bundang-gu, S. Korea.
– She has an older sister (born in 2002).
– Her specialties are: Chinese, game stone, paper or scissors, guess the capital of the countries.
– She can speak Chinese (básico) and Korean and English (basic).
– She was the first member to be introduced.
– Her hobbies are: watching food shows, cleaning the room, art with tangerine peels.
– She is a fan of CNBLUE.
– She is the Maknae of Rocket Punch.
– She was the first member to be revealed.
– Dahyun attended the "BORN Star Attaining Center" academy before debuting.
– She loves dogs.
– Special Skill: Charismatic look.
– Sleeping Habits: Sleeping like a shrimp.
– Favorite Food: Cheese Tteokbokki.
– Foods She Hate: Ginger.
– Song She Sing Often: "BIM BAM BUM" by Rocket Punch.
– Favorite Delivery Food: Jjajangmyeon.
– Words That Make Her Feel Good: "You did great".
– Words That Make Her Gloomy: "I don't see confidence in you".
– A Must-Carry In Bag According To Her: Hand mirror.
– Compliment Word: "You're pretty today".
– She in One Word: "Idol with infinite growth potential".
– Name Syllable Poem: "Everyone, please be quiet!".
– Dahyun is known for being very cute but she doesn't really like aegyo.
– Dahyun is a fan of Heize.
– She wanted to be in a band when she was a child.
– Her favorite song is "Don't Come Back" by Heize.
– She joined Woollim in 2017.
– She's a meticulous person.
– She looks cold but has a soft heart inside.
– She passed a FNC audition but didn't become a trainee with them.
– She trained for two years.
– She's a 2NE1 fan.
– Dahyun auditioned to Woollim with "Lonely" by 2NE1.
– Dahyun's favorite color is Pink.
Profile by Felipe grin§
Back to Rocket Punch Profile
Note : Please don't copy-paste the content of this page to other sites/places on the web. Please do respect the time and effort the author put in compiling this profile. If you need/want to use info from our profile, please kindly put a link to this post. Thanks a lot! 🙂 – Kprofiles.com
How much do you like Dahyun
Latest Fancam:
Do you like Dahyun? Do you know more facts about her? Feel free to comment below! 🙂