Hoshi (Seventeen) Facts and Profile; Hoshi's Ideal Type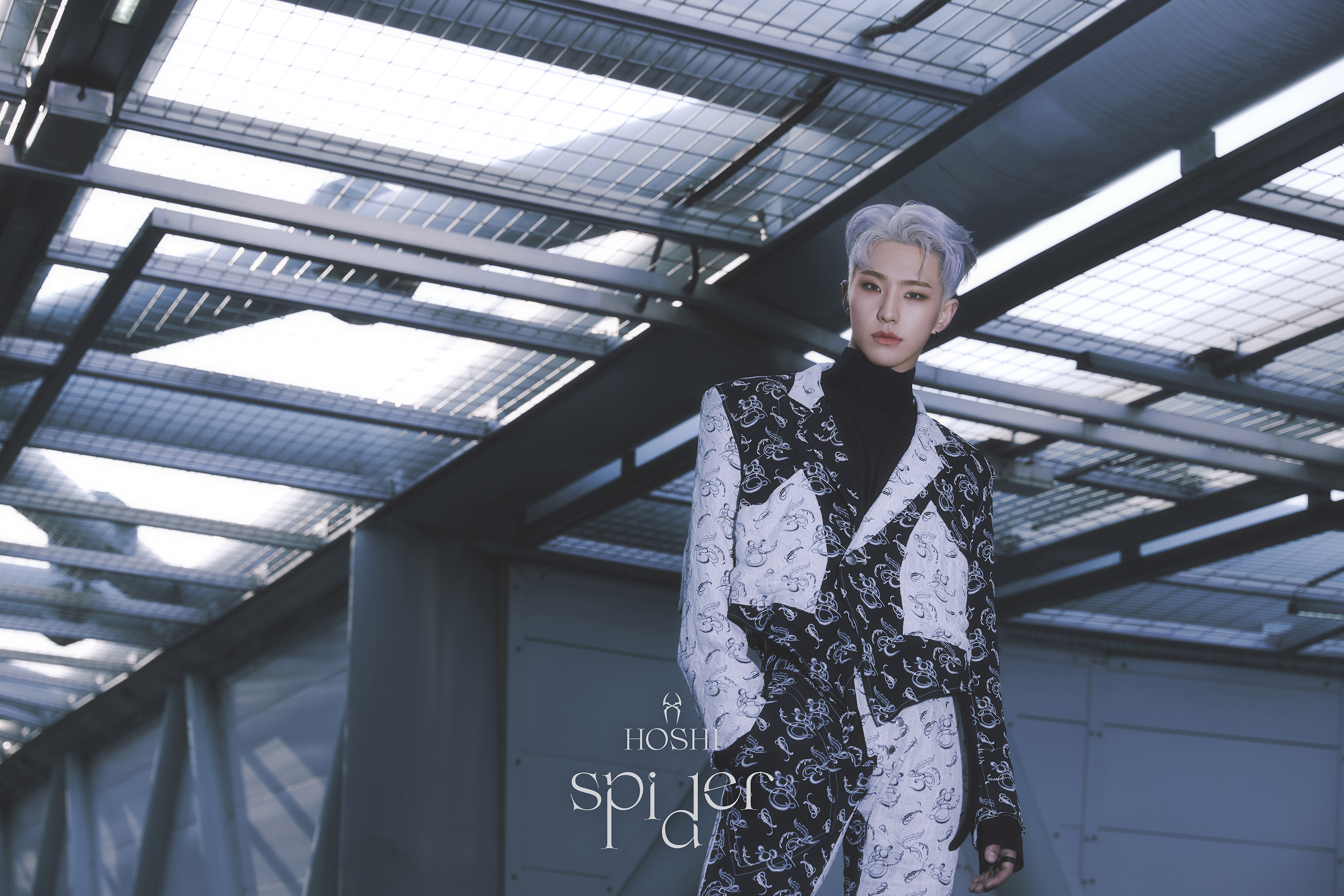 Stage Name: Hoshi (호시)
Birth Name: Kwon Soon Young (권순영)
Position: Performance Team Leader, Main Dancer, Lead Vocalist
Birthday: June 15, 1996
Zodiac sign: Gemini
Nationality: Korean
Hometown: Namyangju-si, Gyeonggi-do, South Korea
Height: 177 cm (5'10")
Weight: 61 kg (134 lbs)
Blood Type: B
Sub-Unit: Performance Team (Leader), SVT Leaders; BOOSEOKSOON
Instagram: @ho5hi_kwon
Hoshi's Spotify list:  Tiger's playlist
Hoshi facts:
– He was born in Namyangju-si, Gyeonggi Province, South Korea.
– He has an older sister.
– Education: Maseok High School; Dong-A University of Broadcasting Arts (Broadcasting Entertainment Kpop Major / Dropout); Hanyang University Institute for Future Talents (Practical Music KPop Division Major)
– His nicknames are Mr. Dumbbell, 10:10 O'Clock (because of his eyes), Hoshi-tam tam.
– He was a trainee for 4 years.
– He choreographs most of Seventeen's routines.
– He is a black belt in Taekwondo and was a Taekwondo champion when he was young.
– He speaks Japanese very well.
– Also, he speaks basic Chinese.
– He had braces before, but had them removed.
– He likes to collect bizarre photos of the members. He deleted most of them in case he loses his phone. He says he has the most bizarre photos of DK.
– His hobby is dancing.
– One of his past hobbies was to air-seal (via vacuum packing) vegetables for convenient use.
– His favorite foods are kimchi fried rice, budae jjigae, soft tofu stew, bulgogi and kong-guksu.
– He likes Japanese food (his favorite Japanese food is hitsumabushi).
– He is not a picky eater.
– He is lactose intolerant (Audio vLive May 2, 2020).
– Hoshi's favorite colors are Black & White.
– He is a big SHINee fan.
– He would like to meet Chris Brown, Usher, Beyonce & SHINee.
– He was voted by the other members as the most hard working member, along with Woozi.
– He was voted by the other members as the member with the most aegyo.
– He is the mood maker, along With SEUNGKWAN and DK.
– His shoe size is 260-265mm. (Weekly Idol Ep 342)
– He said the hardest time in his life was when his friends and family would ask him when he would debut but he couldn't tell them since he didn't know himself.
– S.Coups chose Hoshi as the member who could be the leader, he says he has a lot of charisma.
– His role model is choreographer Keone Madrid. He says his dances are original and attracts people with the beats. He wants to be a person who is original and stylish when it comes to dancing.
– His stage name means star in Japanese.
– The meaning behind his real name is that Kwon means 'power', Soon means 'innocent' and Young means 'glorious'. It means to be powerful by being innocent and glorious. He thinks he's a powerful team leader for the Performance team.
– Hoshi got accepted into Dong Ah Institute of Media and Arts (2017 freshman class). He's pursuing a K-pop performance major at the Institute's Division of Entertainment in Broadcasting. He graduated from high school in February 2015.
– He appeared in NU'EST's "FACE" MV, alongside with Mingyu, Wonwoo, and S.Coups, and Woozi.
– If he had to describe himself in a few words, it would be "good personality." He's a boy who's considerate/thoughtful. He understands others well and he's kind. he would also like if people would notice how he's full of confidence, cute, and cool! (in Japanese, it sounds more humble)
– When everyone's spirits are low, he stirs up the mood and encourages them. On the contrary, when spirits are too high, he tries being quiet. He's always looking out for them because he's a good person. (Japanese Seventeen Magazine)
– He likes sushi, okonomiyaki, ramen, sukiyaki, and shabu shabu. he loves the convenience stores since they heat up lunch boxes for him. (Japanese Seventeen Magazine)
– His style: big sized knitted clothes, rolled up skinny pants, with black visible socks — he likes this kind of balance. He looks at foreign clothes collections on the Internet. He's very interested in being fashionable. (Japanese Seventeen Magazine)
– As a younger boy, he looked up to their senior artist, SHINee's Taemin, and from his 3rd year of middle school, he started his life as a trainee and spent every day taking dance and vocal lessons. He also valued his sleep time, but then debut drew close and he frantically worked hard. (Japanese Seventeen Magazine)
– Honestly, when their debut was delayed, he became upset, but he didn't give up and worked tirelessly every day on things he could do. Thus, now he's able to stand on stage as an artist and perform. (Japanese Seventeen Magazine)
– Hoshi is close to B.A.P's Zelo. (B.A.P's Celuv iTV 'I am Celeb')
– He has no experience in dating. His mother told him to study first and date girls later in college.
– MBTI: INFP
– In the dorm Hoshi and Vernon used to share a room. (Dorm 2 – which is upstairs, floor 8th)
– Update: As of June 2020, in the dorm he has his own room. (Still the old room he used to share with Vernon)
– Hoshi made his solo debut with the mixtape, "Spider," on April 2, 2021.
– Hoshi's ideal type is someone who is fragrant and likes him.
Note: Please don't copy-paste the content of this page to other sites/places on the web. Please do respect the time and effort the author put in compiling this profile. If you need/want to use info from our profile, please kindly put a link to this post. Thanks a lot! 🙂 – Kprofiles.com
(Special thanks to pledis17, Michelle Ahlgren, jxnn, Patrice Washington, miok.joo, MarkLeeIsProbablyMySoulmate)
Back to Seventeen profile
How much do you like Hoshi?
Latest Korean solo release:
Do you like Hoshi? Do you know more facts about him? Feel free to comment below.