Jeongwoo (TREASURE) Profile and Facts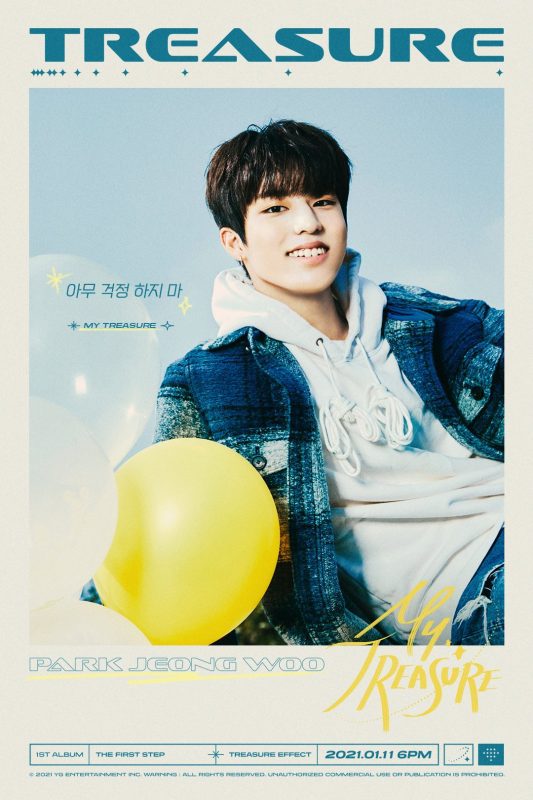 Jeongwoo (정우) is a member of TREASURE under YG Entertainment.
Stage Name: Park Jeongwoo (정우)
Birth Name: Park Jeong Woo (박정우)
 Position: Vocalist
Birthday: September 28, 2004
Zodiac Sign: Libra
Height: 180.4 cm (5'11″)
Weight: 65 kg (143 lbs)
Blood Type: O
MBTI Type: ISFP
Nationality: Korean
Former Unit: Treasure
Park Jeongwoo Facts:
– He is from Ilsan, South Korea.
– Jeongwoo has a brother.
– He is left handed.
– He likes to listen to music.
– He has never missed a day of practice.
– Jeongwoo and Junghwan are schoolmates.
– His English name is Justin.
— Jeongwoo and Yoshi are the most talkative. (Superlatives with Seventeen)
– Jeongwoo likes listening to music, clothes, and food.
— Jeongwoo has the best fashion sense. (Superlatives with Seventeen)
— According to members, Jeongwoo is the best looking in treasure. (Superlatives with Seventeen)
– He took the audition two days after he joined the academy and he passed it.
– What is YG for you? "The YG cafeteria has great food, and they offer the best environment to practice in".
– His strong point is that he can make his voice sound really powerful.
– He said, "I'll try my best to touch people with powerful high notes".
– Three expressions that describe him are "Great reactions", "Great singer", and "tanned skin".
– Jeongwoo and Junghwan came form the same dance academy in Iksan.
– He performed When I Was You Man in his introduction video.
– Jeongwoo was the 5th member to be announced for Treasure.
– Jeongwoo trained for almost 3 years (as of July 2020).
– His specialty is ear wiggling.
– His childhood dream was to be a surgeon.
– His nicknames are Choco Jeongwoo, Tension Boy.
– His favourite film is Up (2009).
– His favourite food is Tteokbokki
– Jeongwoo's favourite ice cream flavor is chocolate.
– Fall is his favourite season of the year.
– His favourite word is TREASURE.
Note: Please don't copy-paste the content of this page to other sites/places on the web. Please do respect the time and effort the author put in compiling this profile. If you need/want to use info from our profile, please kindly put a link to this post. Thank you. – Kprofiles.com
・‥…━━━━━━━☆ Credits: ☆━━━━━━━━━━━━━━・‥…
»»——Saythename17——««
(Special Thanks To: Chengx425)
Do you like Park Jeongwoo? Do you know more facts about him? Feel free to comment down below.