I.M (Monsta X) Facts and Profile; I.M's Ideal Type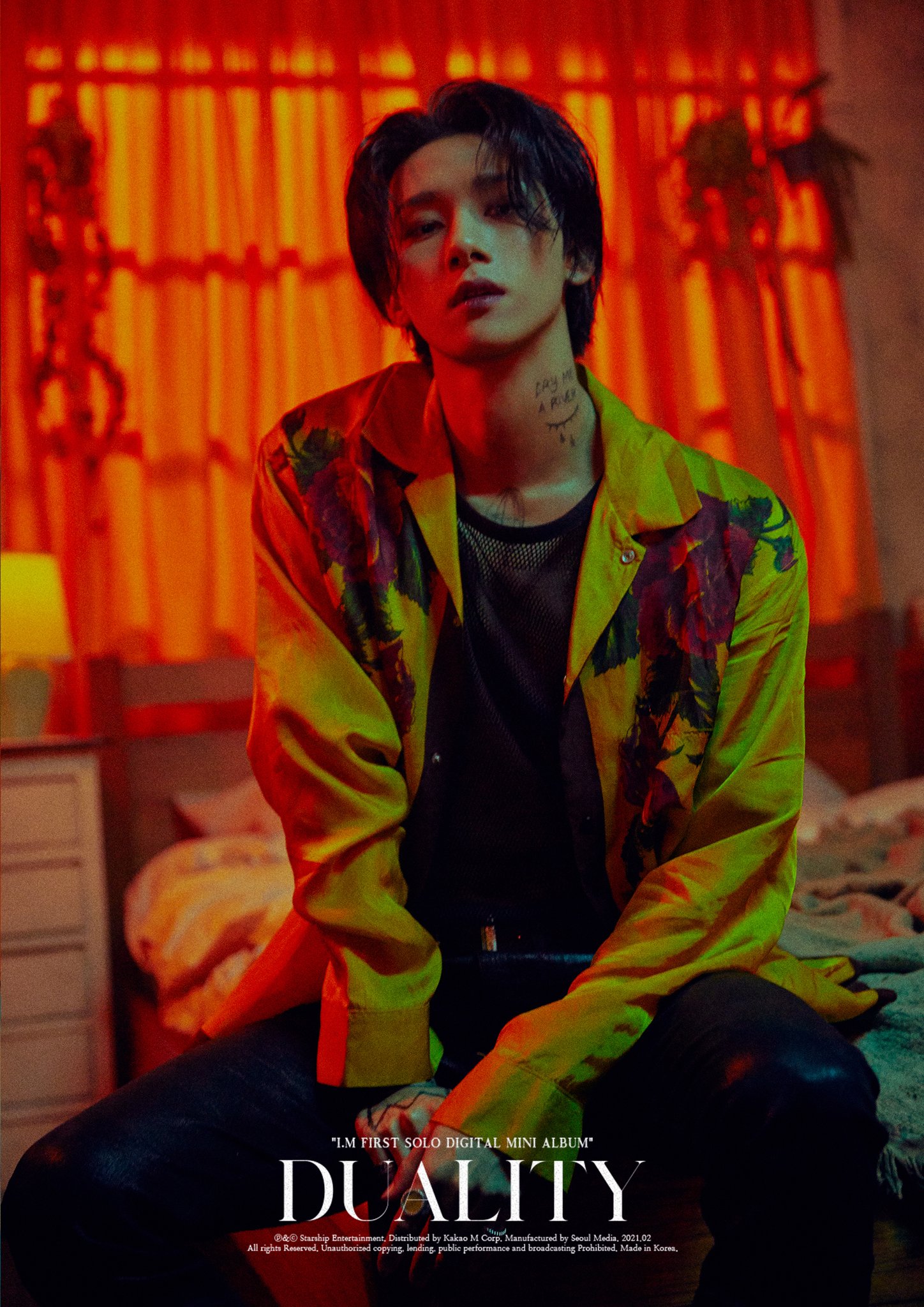 I.M is a South Korean rapper and a member of the South Korean boy group MONSTA X. He debuted as a soloist on February 19, 2021 with first EP album "Duality".
Stage Name: I.M (아이엠)
Birth Name: Im Chang Kyun (임창균)
Birthday: January 26th, 1996
Zodiac Sign: Aquarius
Chinese Zodiac Sign: Pig
Height: 175 cm (5'9″)
Weight: 62 kg (137 lbs)
Blood Type: O
MBTI Type: ISFP
Representative Emoji: 🐺
Instagram: @imnameim
I.M facts:
– He was the 6th trainee announced as a member of Monsta X (after survival TV show "No Mercy").
– He was born in Gwangju, South Korea.
– He has an older brother.
– I.M joined with other trainees in No.Mercy – Mission 4. (When he was announced as a new trainee the other members weren't too happy about this decision.)
– His role model is his father.
– He lived abroad a lot during his childhood, because his father was a scientist and his work demanded of him to travel around the world.
– He lived 3 years in Boston and 4 years in Israel.
– His English name is Daniel, when he lived in Boston, he used be called by the name Dany.
– He once wanted to pursue science and education.
– He can speak English fluently.
– He was supposed to debut in another group in 2014 (Nu'Bility), but plans fell through in the last minute, since he decided to leave the group.
– He was a Starship trainee for 2 years.
– Due to living abroad his English is fluent (He's the member with the best English in Monsta X).
– He still loves travelling and his favorite place to be in is Osaka, Japan.
– In the dorm he is the most quiet member.
– In an interview I.M confirmed that he likes to look a lot in the mirror.
– When he was younger, once he dissected a rat in his dad's lab.
– His father owns an orchard.
– His ringtone is vibrate mode
– He talks a little in the dorm (rather than a lot)
– It was the hardest for him to get close to Wonho (he said it's because Wonho is so fair skinned and handsome)
– He said Jooheon was the easiest to get close to because they're both rappers
– His family like all members of MX
– He says Stone Grandpa (a statue at Jeju island that's known for its big nose) is something that resembles him
– He doesn't know if he has any phobias
– Shownu gave him the best first impression
– He's not jealous of any of the members' personal connections
– He doesn't like to stay much inside and he prefers to be outside. (Once, during "Weekly Idol" he complained that Monsta X stays too much indoor).
– He originally was left-handed.
– Once he wakes up he usually checks his schedule.
– One of his nicknames is Kookang (= puppy) and was given to him by Wonho.
– I.M said that he was more nervous when he performed Mirotic by TVXQ than he was in the finale of No.Mercy. (160612 Monsta X Cut (TVXQ! mirotic) @ MCD Backstage)
– When he was asked why he keeps biting Shownu's arms, I.M said "His arms are delicious." (161025 Monsta X on After School Club)
– He can touch his elbow and his nose with his tongue.
– He keeps skin moisturizer in the dorm's fridge (which he shares with Kihyun).
– He likes playing games with Kihyun.
– He writes a lot of the songs lyrics with Jooheon.
– He always prays before eating. (Like Jooheon)
– His favorite color is white.
– He doesn't like spicy food.
– One of his favorite songs is "Lucia" by Daman.
– One of his favorite English phrases is "Do what you love and love what you do".
– He is so careless like he lost his wallet when they were in the world tour.
– Hobbies: Writing songs, hanging out with his group mates.
– Among Monsta X members he said he is the closest to Jooheon.
– He give 10% of his first paycheck to church and spend some for his parents.
– I.M loves candles and the 'mood' they spread. Hyungwon once said that he observed I.M staring deeply into a candle's flame. (Monsta X Asta TV Interview)
– I.M's definition of love: "Giving up the most delicious drumstick. It's cherishing someone more than yourself." (Sparkling Magazine Interview)
– He is left handed. However, when he plays sports he mostly uses his right hand instead. (Bowling Practice 1 Vlive)
– During (170421 KBSWORLD K-Rush FB Live) he said if he were a girl he would date leader Shownu.
– He's closest to Jooheon because when he was new in 'No Mercy' everyone really disliked him and Jooheon was the one who shared the most words with him.
– I.M is friends with Daewon (former Madtown) and Eunjin (BIGFLO) of UNB.
– I.M ideal's type: "I look at the person's personality."
Note: Please don't copy-paste the content of this page to other sites/places on the web. If you use info from our profile, please kindly put a link to this post. Thanks a lot! 🙂 – Kprofiles.com
Related: Quiz: Who's your MONSTA X boyfriend?
I.M Discography
Monsta X Profile
(Special thanks to #LoveMyself, RandomStorm, Regina A, 131 ♥ 11, ᴀ #ᴊɪɴɪᴜsᴘᴜɴs ᴀʜɢᴀsᴇ 💚🍋 – 일레인, Rose, Lalala, Martin Junior)
How much do you like I.M?
Korean Solo Debut:
Do you like I.M? Do you know more facts about him? Feel free to comment below.