Doyoung (TREASURE) Profile and Facts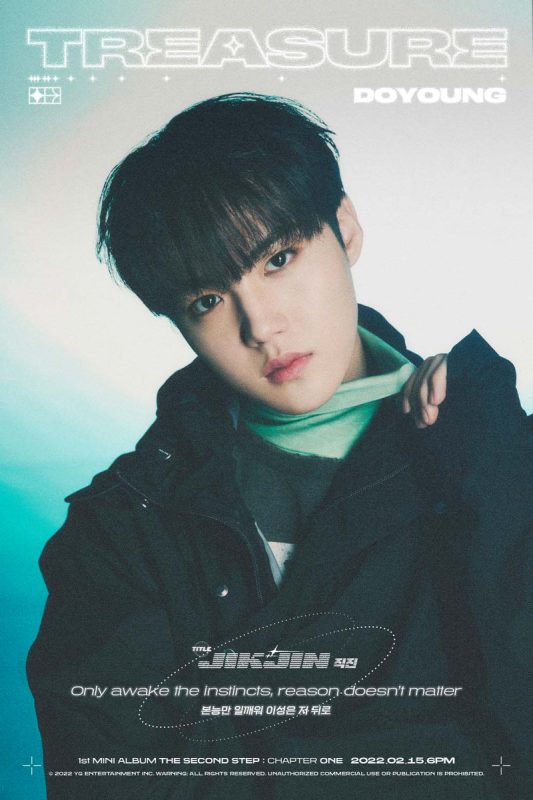 Doyoung (도영) is a member of TREASURE under YG Entertainment.
Stage Name: Doyoung (도영)
Birth Name: Kim Do Young (김도영)
Birthday: December 4, 2003
Zodiac Sign: Sagittarius
Height: 177 cm (5'10″)
Weight: 58 kg (128 lbs)
Blood Type: B
MBTI Type: ENTJ
Nationality: Korean
Former Unit: Magnum
Doyoung Facts:
– He was born in Seoul, South Korea.
– He has an older brother.
– He likes to skateboard, swim, and play basketball.
– He started training at YG when he turned 11 in 2015.
– Education: Apgujeong High School, Eonju Middle School, Seoul Eonbak Elementary School.
– Doyoung and Hyunsuk attended to the same elementary and middle school.
– The third member to be announced for Magnum
– Doyoung is very optimistic and mature.
– Doyoung used to wear braces but removed them before Treasure Box started.
– He writes and composes songs with his member Bang Yedam.
– He thinks Yedam is a good partner to write songs with.
– He was really chubby in 3rd grade (Year 4) but started to lose weight.
– Nicknames: Dobby (Homebody + Doyoung), Dosooni, Kim Dosun, Doppangie, DoBaby, Young Master, Baby Rabbit and DoBunny
– He considers himself as cute and has names to describe himself "Bling Bling", "Little Cutie", and "Full of Aegyo"
– Reason of attraction: Aegyo
– He appeared in an episode of Stray Kids (JYP vs YG Battle)
– He used to dance with Junkyu and Gil Dohwan at Def Skool (a dance crew).
– He and Dohwan (CIIPHER) are best friends
– Motto: Challenges don't have an end.
– Doyoung's English name is Sam. (T-Map EP.28)
– Doyoung is good at cooking.
– He has a habit of biting lips.
– Doyoung is allergic to apples, if he eats them his lips get swollen.
– He has various types of vitamin and medicine in his bag. (YGTB What's In My Bag)
– He is a fashionista.
– He loves to dress up in clothes that people wouldn't dress in. (T-talk with Choi Hyunsuk, keyword: fashion)
– Doyoung can play the piano.
– His favourite colour is yellow.
– He likes burgers.
– Doyoung's fandom name: Dobbys
– Winter is his favourite season of the year.
– He has two cats named, Pink and Coco.
– Line character: Som
– He shares a dorm with Jihoon, Mashiho and Jeongwoo. In their dorm, he has his own room.
– Doyoung likes mint chocolate.
– He doesn't cry often and it's very rare to see his tears.
– He is generally quiet and calm, but not an introvert.
– Doyoung has long and thick eyelashes.
– He can't eat spicy foods.
– His favourite dessert is egg tart.
Note: Please don't copy-paste the content of this page to other sites/places on the web. Please do respect the time and effort the author put in compiling this profile. If you need/want to use info from our profile, please kindly put a link to this post. Thank you.
————☆ Credits ☆————
»»Saythename17««
(Special Thanks To: Chengx425, dobby, Tam)
Do you like Doyoung? Do you know more facts about him? Feel free to comment down below.