Tokyo Revengers (東京リベンジャーズ)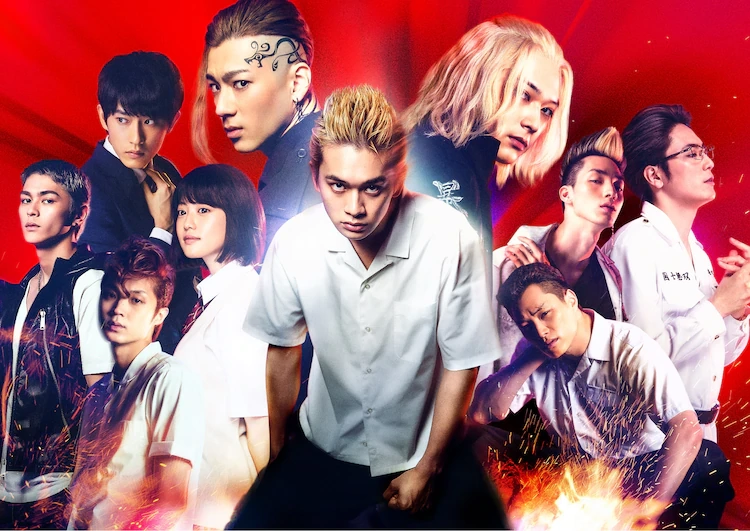 Tokyo Revengers (東京リベンジャーズ) is a Japanese movie starring Takumi Kitamura, Ryo Yoshizawa, Yuki Yamada and more. It is based on the manga of the same name by Ken Wakui. The show premiered on July 9, 2021.
Drama Name: Tokyo Revengers
Native Title: 東京リベンジャーズ
Other Titles: Tokyo卍Revengers, Tokyo Ribenjazu
Release Date: July 9, 2021
Genre: Time Travel, Suspense, Thriller, Drama, Action, School Rivalry, Slight Romance, Murder
Duration: Netflix
Rating: 13+
Screenwriter: Izumi Takahashi
Director: Tsutomu Hanabusa
Sypnosis:
Takemichi Hanagaki's former girlfriend, Hinata Tachibana has been murdered. The next day after the incident, Takemichi falls off a train platform and travels 10 years back without his awareness. He realizes that he's back in his worst high school years, which led him to become a loser. He finds out that in order to save Hinata's life he has to eliminate the Tokyo Manji gang. With the sudden changes of events, Takemichi decides to save Hinata and change the life he has been running away from.
Main Cast:
Takemichi Hanagaki


Role name: Takemichi Hanagaki (花垣 武道)
Real name: Takumi Kitamura (北村 匠海)
View full Takumi Kitamura profile…
Manjiro Sano (Mikey)


Role name: Manjiro Sano (佐野 万次郎)
Real name: Ryo Yoshizawa (北村 匠海)
View full Ryo Yoshizawa profile…

Ken Ryuguji (Draken)


Role name: Ken Ryuguji (龍宮寺 堅)
Real name: Yuki Yamada (北村 匠海)
View full Yuki Yamada profile…
Naoto Tachibana


Role name: Naoto Tachibana (橘 直人)
Real name: Yosuke Sugino (杉野 遥亮)
View full Yosuke Sugino profile…
Hinata Tachibana


Role name: Hinata Tachibana (橘 日向)
Real name: Mio Imada (杉野 遥亮)
View full Mio Imada profile…

Shuji Hanma


Role name: Shuji Hanma (範馬修司)
Real name: Hiroya Shimizu (清水尋也)
View full Hiroya Shimizu profile…
Takashi Mitsuya


Role name: Takashi Mitsuya (三ツ谷 隆)
Real name: Maeda Gordon (前田 郷敦)
View full Maeda Gordon profile…

Supporting Cast:
Masataka Kiyomizu (清水 将貴) Played by: Nobuyuki Suzuki (鈴木伸之)
Atsushi Sendo (千堂 敦) Played by: Hayato Isomura (磯村 勇斗)
Tetta Kisaki (稀咲 鉄太) Played by: Shotaro Mamiya (間宮 祥太朗)
Haruki Hayashida (林田 春樹) Played by: Kazuki Horike (堀家一希)
Nobutaka Osanai (長内 信高) Played by: Yoshiki Minato (湊祥希)

made by Saythename17
Note: Please don't copy-paste the content of this page to other sites/places on the web. If you use info from our profile, please kindly put a link to this post. Thanks a lot! 
 – Kprofiles.com
Note 2: Please use spoiler tags in the comments if there is a chance your comment might contain some, Thank you! (Just wrap the new <spoiler></spoiler> tag around your comment.)
How much would you rate "Tokyo Revengers"?
Tokyo Revengers Trailer:
Do you like Tokyo Revengers live action film? Feel free to comment down below.