Minerva Land Members Profile 


Minerva Land (ミネルバランド) is an idol group from Yogyakarta who started debuted on August 3, 2019 by carrying a cheerful & colorful concept. "Minerva" is the name of one of the species of a butterfly "Lethe Minerva", while "Land" is meant to be a place where idols and fans are free to express their love for the idol itself. Minerva Land presents as an idol who spreads love and happiness to everyone.
Minerva Land Logo: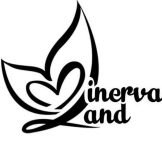 Minerva Land Fandom Name: Minervanians
Minerva Land Official Color: –
Minerva Land Official Acounts:
Instagram: minerva.land
YouTube: Minerva Land
Facebook: Minerva Land
TikTok: minervaland.official
Twitter: minerva_land
Members Profile:
Ninda


Stage name: Ninda
Full Name : Ninda Dwi Manggiasih
Birthday : Situbondo, November 24, 1997
Zodiac Sign: Sagittarius
Color : Yellow
Butterfly species: Troides helena
Instagram: nindadwim
Twitter: anastasyah3h3
Ninda Facts:
– Hobby : Playing with Cat, Dancing, Culinary
– Charming Point: happy virus
– She is the leader of Minerva Land.
Heira


Stage Name: Heira
Full Name : Hellen Safira Dimar Abidin
Birthday : Kudus, May 20, 2000
Zodiac Sign: Taurus
Color: Pink
Butterfly Species: Fountainea nobilis
Instagram: heirara_nim
Twitter: Heirara_nim
Heira Facts:
– Hobby : Dance
– Charming Point : "Adorable shy girl!"
Vanesa


Stage Name: Vanesa
Full Name : Vanesa Adenanda Rinjani
Birthday: Malang, March 24, 1999
Zodiac Sign: Aries
Color: Red
Butterfly Species: Anartia amathea
Instagram: vanesavanilla
Twitter: vanesavanillaaa
Vanesa Facts:
– Hobby : Playing with Her Pets, Play Violin, Eat Snack
– Charming Point : "Talkative Baby Titan!"
– She has two sugar gliders named sugar and jelly.
Jazzy


Stage Name: Jazzy
Full Name: Jazz'y Nada C Alma Dhea
Birthday : Yogyakarta , December 16, 2002
Zodiac Sign: Sagittarius
Color: Blue
Butterfly Species: Myscelia cyaniris
Instagram: jazzy_nada16
Twitter: JazzyNada
Jazzy Facts:
– Hobby : Reading, Watching Anime
– Charming Point : "Beautiful Sharp Eyes!"
– She used to be a fan of Minerva Land before joining the group.
Nana


Stage Name: Nana
FullName : Nathalea Deeane Legoh Hendranata
Birthday : Yogyakarta, December 6, 2004
Zodiac Sign: Sagittarius
Color: Green
Butterfly Species: Nessaea aglaura
Instagram: jynthl
Twitter: jynthl
Nana Facts:
– Hobby : Dance, Photography, Traveling
– Charming Point : "Cute Fang!"
Note: Please don't copy-paste the content of this page to other sites/places on the web. Please respect the time and effort the author put in compiling this profile. If you need/want to use info from our profile, please kindly put a link to this post. Thanks a lot! 🙂 – Kprofiles.com
Special thanks: vanesavanilla ( ˘ ³˘)♥
Made by: Birch Sapling
Who's your Minerva Land oshimen?
Related: Minerva Land Discography
Latest Release:
Who is your Minerva Land oshimen? Do you know more facts about them? Feel free to comment down below. 🙂